Gorgeous Gemstone Rings
Posted on
Lets Talk Gorgeous Gemstone Rings
Here at Street's Craft Creations my gorgeous gemstone rings are a popular choice for my customers. The beautiful gemstones are set off beautifully against the sterling silver.
The gemstone choice is practically endless too. My customers tend to choose one of 3 ways.
1. They go by the preferred colour choice, afterall there are so many wonderful colours!
2. They have a specific stone in mind, either due to the properties that stone holds or its in relation to the recipients birthstone/favourite stone.
3. They get in touch with me and ask what I would recommend, its always lovely having a chat with you about your purchases and what you are looking for.
What makes them the most popular for gifting is the fact they are adjustable, so sizing isnt a worry. You can read about how to adjust them here.
You can truly create a personal, beautiful and unique gift for your loved ones. Head over to Street's Craft Creations and check out these beauties and more in the Sterling Silver Collection. I have a few other designs of adjustable rings as well as some fixed based rings too.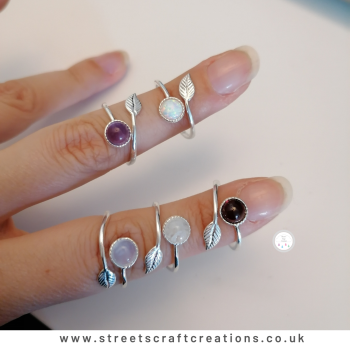 Happy shopping lovelies
x Shell x