The Wonderful World of Necklaces
Posted on
Who doesn't love a beautiful necklace? They can really make an outfit.
Thinking about it, there isn't a time when you can't wear a necklace (ok, there is a few, not swimming or showering and probably best not to whilst sleeping either!), but you know what I mean, there is a necklace for every occasion.
They can be subtle and delicate or bold and statement. I feel a necklace can really display your personality. That's the lovely thing about jewellery, it is completely customisable to your look and your outfit.
We love how versatile they are. Different lengths for different looks. Layer different lengths together to create your own unique look. Pops of colour to highlight colour tones in your outfit. Or statement pendants to draw the eye to it. The possibilities are endless!
With the wide variety of length options available, you really can find a necklace to suit any neckline of an outfit.
Did you know necklace lengths have names? From Choker to Princess, to Opera and Lariet. I love the names, how about you? Check out this handy visual this shows you the different lengths along with their measurements.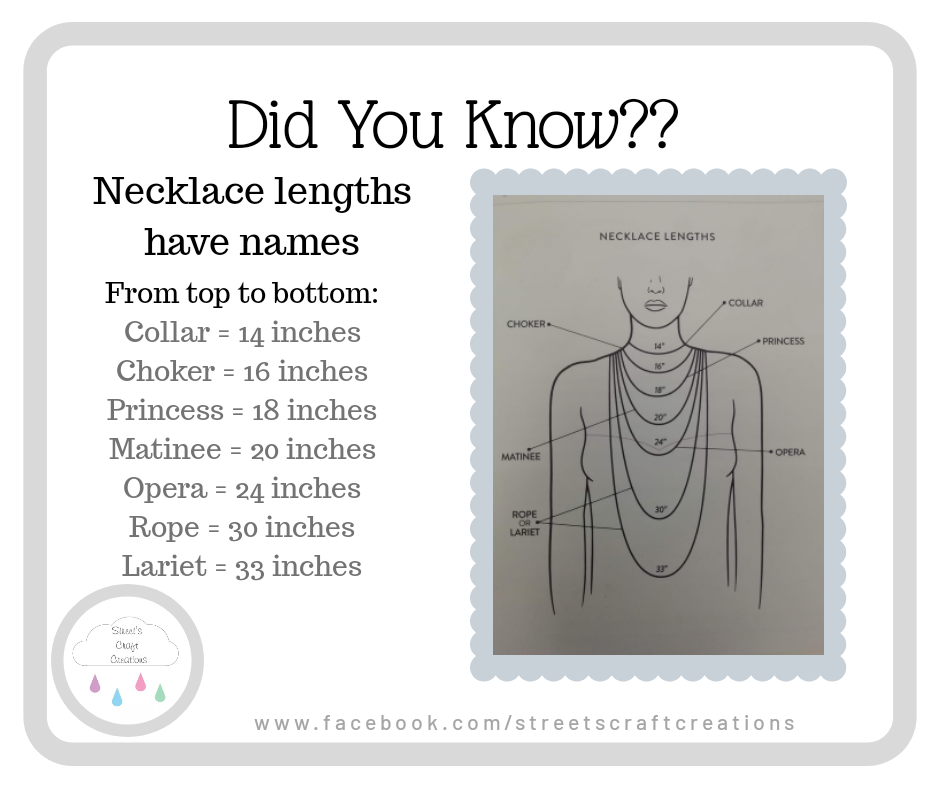 It's a great way of being able to visualise where your necklace will sit, it will help you when deciding what length to go for, with specific outfits.
Now most of my necklaces are made at Princess length as it is the perfect length that suits many outfit necklines. I can however make necklaces to suit you. So, if you have a preferred length or you have seen a make of mine and you want it longer or shorter, just pop me a message. You can contact me through my contact page on my website or direct message via my social media platforms.
I am happy to help!
Happy necklace shopping lovelies…
www.streetscraftcreations.co.uk